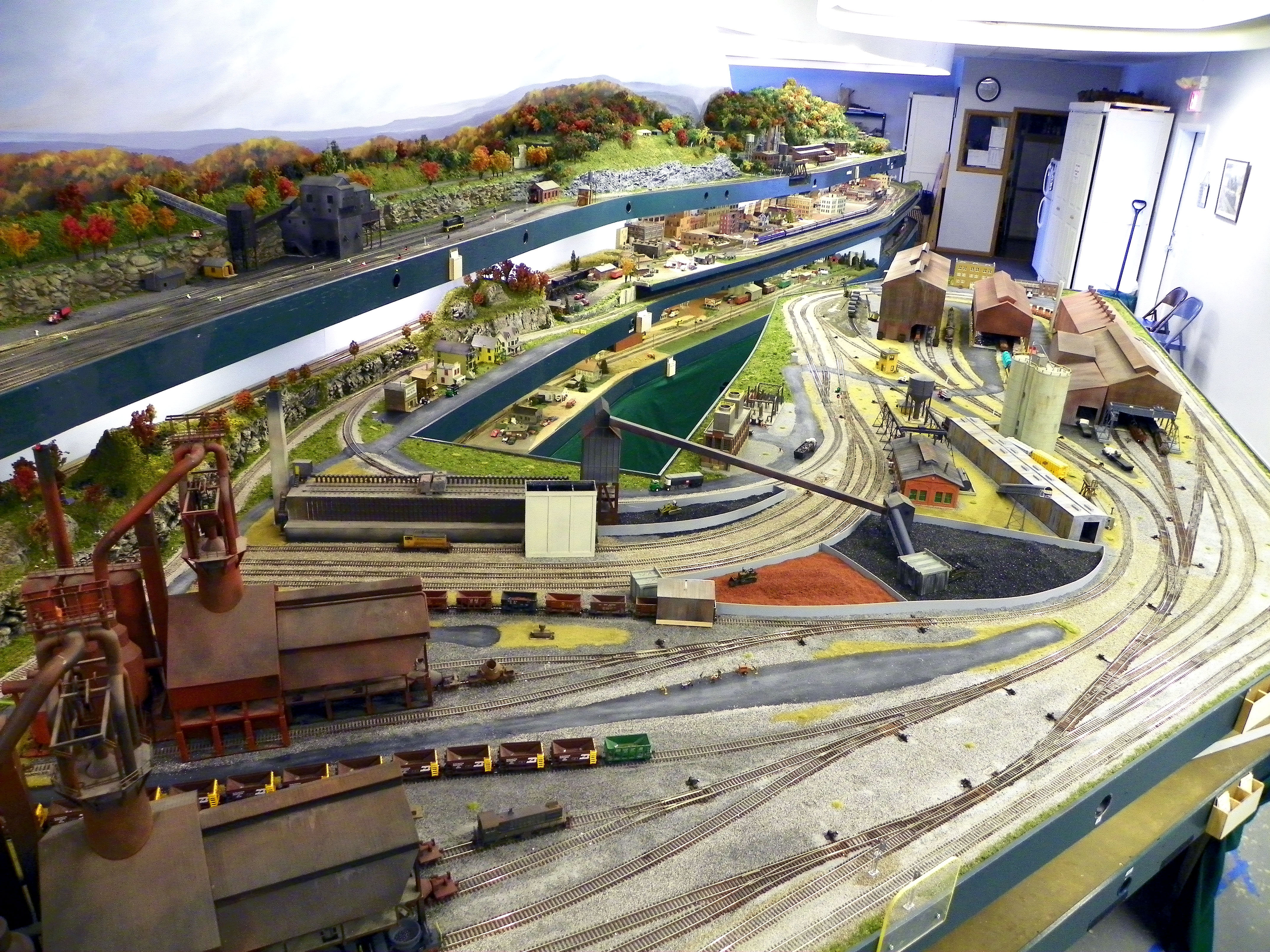 BMRC has essentially completed our steel mill, signal system, and 90% of our other scenery. Plans for the summer include creating a waterfall on the side of the mountain and installing spurs and industries at Trammel, VA on the Clinchfield, and Columbus, OH and Kenova, WV on the C&O. We are also getting close to being able to operate our railroad as the C&O and Clinchfield in operating sessions. The dispatcher's panel is now being completed using a customized version of JMRI's Panel Pro software. The panel will be a modernized version of Centralized Traffic Control of the 50's. The system involves 140 block detectors, 56 switches with DS control with local control option, and 224 signal heads, all of which is now operational.
BE SURE TO SEE THE "CAB RIDE" VIDEOS (LINKS ON THE BLOG ROLL). These were shot with a mini-camera on a flatcar, provided by Mr. Matthew Moore, a visitor at our March 18-19 Open House. Thanks, Mr. Moore!
If you happen to be driving by and see that our "open" sign is on, feel free to stop in and look around. We welcome visitors all the time, but trains will usually not be operating when we're working on the railroad.
WE ACCEPT DONATIONS OF USED MODEL RAILROAD EQUIPMENT (ALL SCALES) AND WILL ISSUE TAX-DEDUCTIBLE RECEIPTS UPON REQUEST. HELP US FINISH OUR RAILROAD BY DONATING YOUR OLD TRAINS. E-mail our president at president@bmrr.org for a mutually agreeable time. Your donations are appreciated.
MEMBERSHIP IN BMRC IS OPEN. ANYONE INTERESTED MAY CONTACT THE PRESIDENT (president@bmrr.org) OR VISIT THE CLUB ON WEDNESDAY EVENINGS OR SATURDAY AFTERNOONS, or during OPEN HOUSES. PLEASE CALL AHEAD (517-486-0404) TO BE SURE SOMEONE IS PRESENT DURING THE WEEK.
FOLLOW US ON FACEBOOK……………..www.facebook.com/blissfieldmrc