Posted at 12:00 am in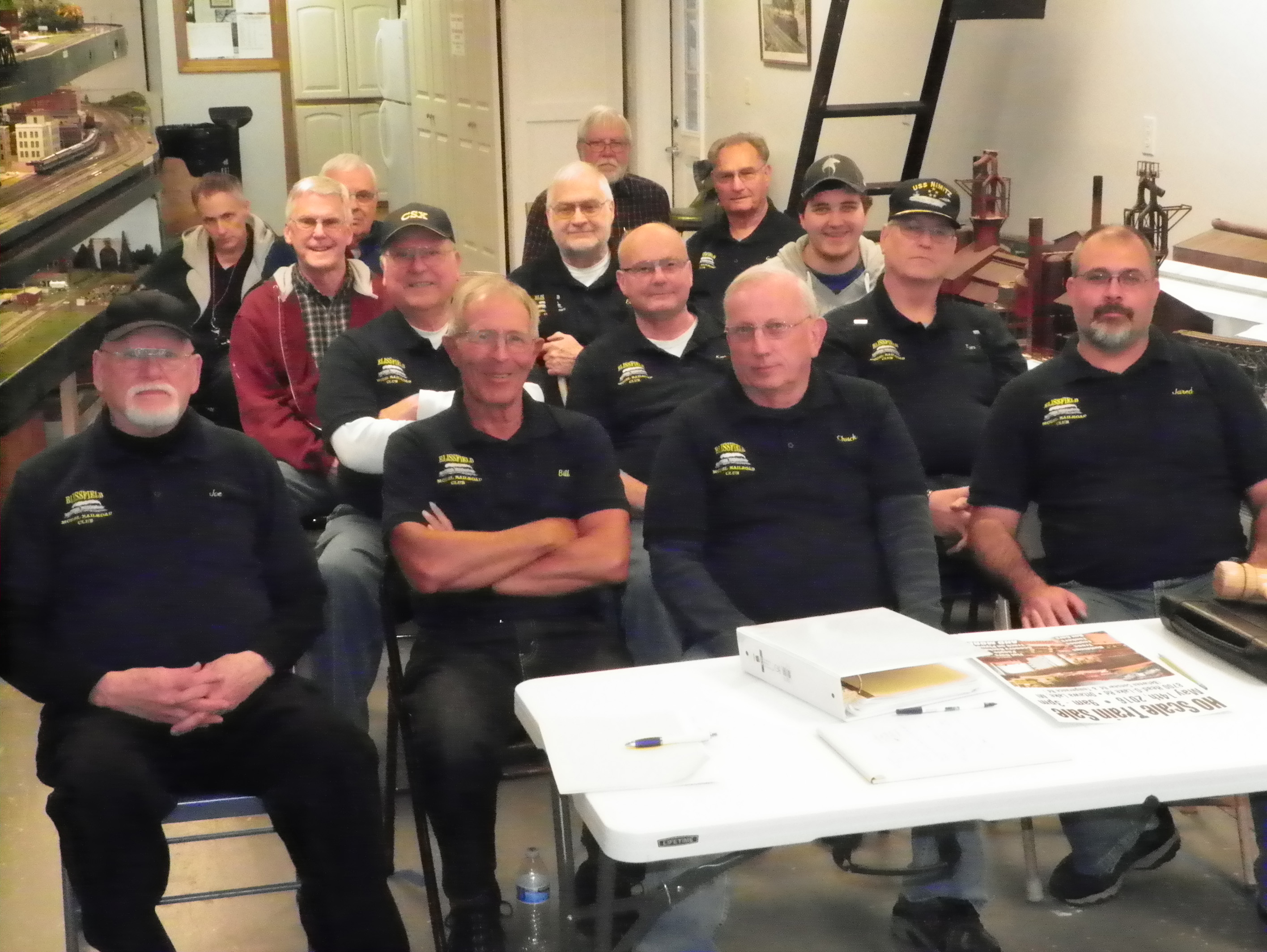 Attendees at the May 2016 monthly business meeting.
The BMRC is a group of model railroaders from all over the southeast Michigan and Northwest Ohio area who are actively working on building and operating a large HO scale model railroad based on the Chesapeake & Ohio and Clinchfield railroads in Kentucky, West Virginia, Virginia and Tennessee.
The club operated a 2300 sq ft layout on the 2nd floor an old building in Blissfield for nearly 20 years before losing its lease in 2013. The club made the decision to buy its own building (next door to the old one) and build a new layout, adapting about 2/3 of the old layout to the new space and adding to it. The new building is all on the ground floor and will be much more accessible to more people than ever before. We now have our own parking lot and the building has two front entrances, allowing for smooth visitor traffic flow during major open house events. As a part of building modifications, we have incorporated a handicapped-accessible restroom and our 3 exits conform to fire safety standards.
The club currently has 27 regular members and 2 student members. BMRC is a 501(c)(3) nonprofit corporation and is open regularly to the public and schools, scouts, churches, service clubs, and other groups. Membership is open and student membership is open from age 15 (12 with a parent) through college as long as he/she remains a student. Present member ages range from 17 to 83. All our members come from communities around the Blissfield area.  Toledo OH, Oregon OH, Sylvania OH, Monclova, OH, Maumee, OH, Waterville, OH, Adrian MI, Temperance MI, Monroe MI, Grosse Ile MI, Tecumseh MI, Blissfield, MI, Swanton OH, Hudson MI, and Flat Rock, MI are among the cities represented.
Prior to the construction work of the past 3 years, club members normally gathered at the railroad each Wednesday evening (7 p.m.) and Saturday morning (10:30 a.m.) Some came early and some stayed late. At the present time we are still doing some finishing work on the layout on Tuesdays and Thursdays. We hope to return to our former Wednesday/Saturday primary meeting days soon. We have a business meeting on the first Wednesday evening of the month at 7 p.m. The business meetings are necessary for discussions and decisions on finances, membership, and issues that need attention. Our officers are president, vice president, secretary and treasurer and they are elected at our annual June elections.
Our club meetings are very informal, as our main interest is to continue to detail and operate the layout. Although the layout will always be worked on, modified, and detailed from time to time, we have now returned to our normal routine of holding monthly open house events for the public and operating sessions for the club members. Our open house season is September through April each year. During the November – December holiday season, we usually have at least one extra open house.
At BMRC, there are many projects of all kinds to work on from time to time. So whatever your interest; scenery, structure building, rolling stock maintenance, track maintenance, electronics, operations;  there is always something fun to do. This, of course, includes running trains for the fun of it, or operating them for our open house events. If any of the above sounds like something you would enjoy getting involved in, please drop an e-mail to the president at president@bmrr.org and we will arrange a time when you can stop in and visit us. Always call us at the club (517-486-0404) before coming to Blissfield to ensure that members are present.